SERVICE OVERVIEW
What the CFO Outsourcing is and whom it serves the best?
This service is a temporary or permanent outsourcing of management of selected issues related to the finances or accounting of companies.
CFO Outsourcing is a service dedicated to medium-sized companies (companies from the SME sector, with an annual turnover of 8-50 million PLN), in which the Management Boards:
They need financier's support in planning and budgeting, cost control, risk and liquidity management, and assistance in making management decisions.
They need support in the field of liquidity management and planning.
They count on support in managing and limiting business risk.
They expect support in supervising and improving accounting.
They need support in restructuring the enterprise.
The most important benefits are:
costs control,
increase of financial liquidity,
increased security of the business,
impact on the growth of goodwill.
CDB directors competences
Our financial directors are people with a minimum of 5 years of experience in financial management of companies from various industries. They are characterized by sound financial knowledge and a very good orientation in accounting and tax regulations, as well as knowledge of international accounting standards (in particular, FASB, IASB, US GAAP, IFRS). They have experience in reporting in the international work environment, higher education in the field of finance (accounting, economics), well-developed analytical, social and managerial competences. They provide services in Polish and English.
Outline of the financial director's work in outsourcing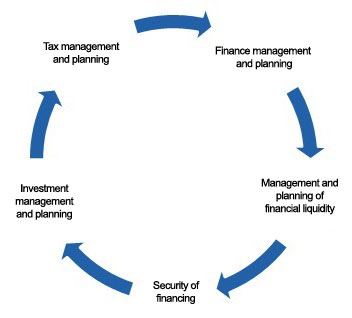 INFORMATION AND CONSULTATION
If you need support in the financial management of the company or have additional questions, please contact us directly at +48 22 460 85 50 or by filling in the form available at the button below.